Transworld has been around for 20 years! Can you believe it? I remember getting the first issue and seeing the "Skate and Create" article by tracker peggy and saying "how lame..." but, the rest of it was put together by Blender, GSD and the crew so, that made up for it....Now it rules. The party was lots of fun. Salba's band played, the Faction and then Lance and Lance Jr. band played. Food and drinks, (no free soda? I was bummed on that!!), skating and a cool copy of the first issue. Thanks guys!!
TWS Volume 1 # 1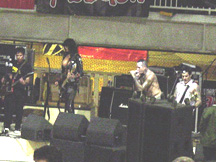 U.S. Bombs in typical form.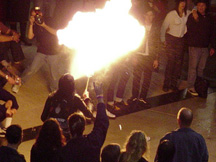 Duane's bass player chic stood about 6'5" and breathed fire!!!!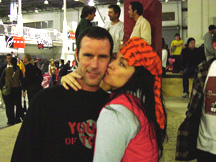 Typical Heather from Big Brother photo!
What's a party without a trip to the emergency ward? This dude was in the middle of his run, when some girl dropped in on him. She walked away...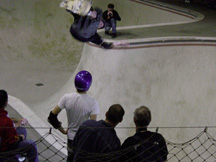 There wasn't a ton of skating going down but, with Brian Patch and Omar there....what more do you need. Brian with a 540 out of the frame....
THE FACTION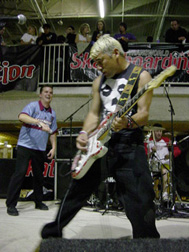 The Faction sounded really good as the belted out all the hits....Lost in Space, Skate and Destroy, and Let's go get Cokes....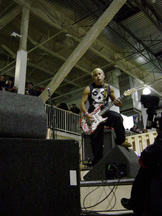 Cab rockin' out.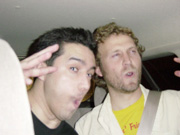 Syndromites, Daniel and Alex-the life of the party!