That's where everything fell apart....the last thing I remember is cranking the ollie, seeing my feet solidly on it, (as you see in the photo), and thinking,"no problem".........
The next thing I remember was the paramedic guy asking if I knew what day it was and me saying,"no, no I don't...". .............................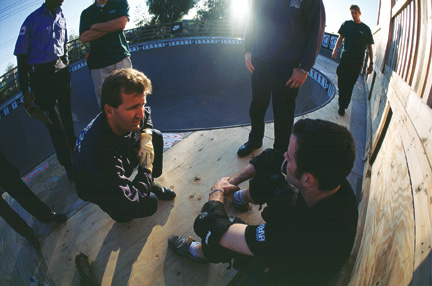 Apparently, I traveled too far into the deep end pocket and landed too low or something, resulting in a face smash on the flat. They said I was laying on the bottom of the bowl with my eyes rolled back in my head....then got up and climbed out of the bowl only to stagger incoherently around on the deck. They said I was so messed up that they had to call the paramedics.
To make the rest of the story short, they called my roommate, Rod, to come get me but, he said that I insisted on driving myself home (I found a legal form from the paramedics releasing them from any liability to let me drive home),called some friends on the way home(and babbling to them with the same things over and over again), and sat at home all night watching a blank tv screen.....none of which I have any recollection about at all.....you may have read all this and said "damn, pretty gnarly" but, I have to tell you that I'ts really not that bad. I've been knocked out a lot of times and it's a lot better than breaking something or knocking your teeth out....see you at 36!